Glutathione Product Buyer's Guide (updated November 2023)
Natures Craft Glutathione Review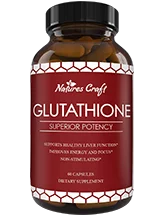 Natures Craft Glutathione seems to promote their Glutathione supplement as a vanity product to provide skin lightening and anti-aging benefits. While the label focuses on the other health benefits of Glutathione such as improved liver health and energy, the site mostly focuses on the skin and beauty benefits. That just goes to show the huge range of health and other benefits this powerful antioxidant provides. However, not all Glutathione supplements will provide the same benefits. Just because the label says Glutathione, it doesn't mean you will necessarily get the amazing benefits of Glutathione if the supplement is not formulated with the correct ingredients.

One of the biggest problems with Glutathione supplements is the body's ability to absorb them. If the Glutathione isn't absorbed effectively into the bloodstream, you won't get the incredible benefits it provides. Glutathione will be broken down in the stomach if not combined with Phospholipids which protect its travel through the digestive system. That is what Natures Craft Glutathione is missing. So while we were happy to see that it contains reduced Glutathione in the optimal concentration of 500mg, it is not combined with any Phospholipids which may reduce its effectiveness. Another ingredient which we always look for in any supplement to promote absorption, BioPerine®, was also sadly left out.
We were happy to see that this product is manufactured in the USA and has a GMP certification which indicates a quality and safe product. But it's ultimately the formula that gets you the results, so does this product have what it takes?
Is Natures Craft Glutathione Effective?
The manufacturer doesn't provide much information about why they have included the ingredients they have in the product, which are Reduced Glutathione, Milk Thistle, and Alpha Lipoic Acid. We know from our own research that Reduced Glutathione is the active form of Glutathione which is the most effective form as it can be immediately utilized by the body. We like that they included the optimal amount of this key ingredient, 500mg. The other two ingredients help to increase Glutathione levels in the body.
However, where this product falls short is that it does not contain any ingredients to ensure that the Glutathione is actually absorbed into the bloodstream. If the Glutathione is not efficiently absorbed, the results felt will be minimal or will take longer to achieve. Glutathione should be combined with Phospholipids which help protect it during digestion to bypass the stomach acids. If the Glutathione is broken down in the stomach, it will need to be formed again in order to be utilized by the body, so results will take longer. Another ingredient missing from this product to aid absorption is BioPerine®.
Is Natures Craft Glutathione Safe?
In general, this product is marketed as natural and safe. There are no mentioned side effects. That said, it is always recommended to speak to your doctor before taking any new supplement, especially if you are pregnant, nursing, have any health conditions or are taking other medications.
Summary
Natures Craft Glutathione has the right idea by formulating their product with the optimal amount of Reduced Glutathione plus other ingredients to help increase levels of Glutathione in the body. It also comes at a decent price and claims to come with a money-back guarantee, though there are no actual details about this guarantee. In spite of this, there are some ingredients that are missing from this product. The most noticeable one is phospholipids which are essential for ensuring the proper absorption of the Glutathione by protecting it while traveling through the digestive system to not be broken down in the stomach. Another missing ingredient to promote absorption is BioPerine®. This could potentially affect how fast results are felt if they are felt strongly at all.
This manufacturer does not provide much information about how their product works other than what the benefits of the product are. There are no details regarding why it is formulated with the ingredients it includes and how they work to boost Glutathione in the body. We needed to do that research ourselves. We would have preferred more transparency. There are also no details about the money-back guarantee that comes with the product. It is not clear if you only have 30 days to return the product unopened or if they provide a more gracious money-back guarantee.
What You'll Discover:
✓
Which Glutathione supplement is the BEST BUY and comes with a great GUARANTEE!
✓
Which formula and ingredients are the most EFFECTIVE and work the fastest?
✓
How NOT to get ripped off! BE AWARE of poor quality and cheap products.
Top 6 Items to Consider:
Ingredients
Cost Per Serving
Product's Testing Results
Company's Reputation
Consumer Reviews
Return Policy & Satisfaction Guarantee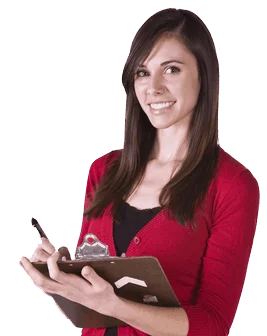 Sign Up For Our Newsletter!
We will send, straight to your inbox, the latest and most relevant information regarding Glutathione to keep you updated and informed.
Our promise: We will never share your contact details, unless you give us permission. And, we will only ever send you information that is helpful and significant.